...until it's about the food again.
This comic has had me chuckling for a while now. It's called Stove Ownership: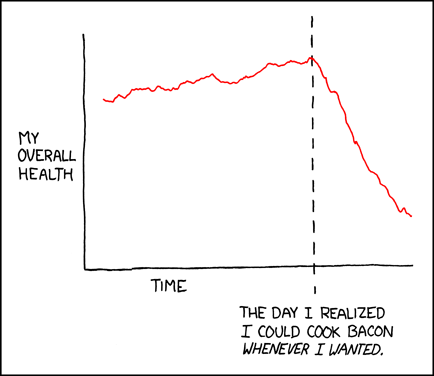 I went through a bacon phase, an onion ring phase*, stove-top popcorn, Stove-top Stuffing, Jiffy mix corn bread, biscuits from a can, and soup. Soup was definitely the healthiest cooking phase I went through. It was the zero-point soup from WW. I finally learned my uppermost garlic tolerance in my weekly soup-making ritual. There are probably others I just cannot recall.
I'm teetering on the edge of a new cooking phase in my life. My food plan needs to change and I'm resisting like I'm a newbie. I know I need to reduce my main dish portions and increase the veggies. I. Do. Not. Want. To. Surrender? Tosh! Not me, I can do this on my own! (Donning my cape and saucy mask, cue hero music.)
Logically I know the only way to change my eating to be loving and where it needs to be is to surrender to HP. Emotionally I'm three, six and 13 years-old. No! You suck and I hate you! It just feels impossible and I'm going to have to change my eating in a radical way that hasn't had to happen since I went to three meals a day with nothing in-between. Scary.
I need to talk with my sponsor more and I'm running from that too. What goes into my mouth isn't different than what it's been for a while. The difference is that I feel guilty that I'm still eating my enormous portions. My sponsor says abstinence is guilt-free eating. That is not what I'm doing right now. Poor me, poor me, pour me a big sugary Coke.
*Ugh, flashback to crazy attic apartment where everything stunk of grease when I experimented mightily with homemade onion rings in my electric wok. I feel queasy thinking of it.